Local investors put into operation two projects in Zhanaozen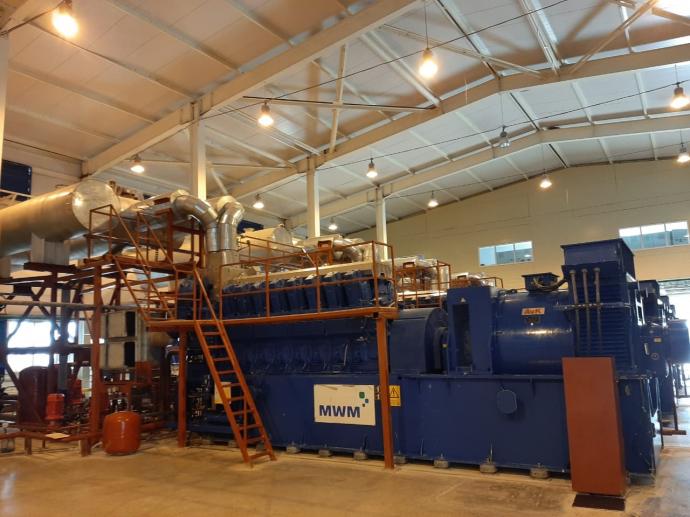 Kazakh investors put into operation two projects in the food industry and energy in Zhanaozen, Mangistau region. Akim of Mangystau region Serikbay Trumov, regional representative of KAZAKH INVEST Aydin Tumyshev as well as activists and public figures attended in the grand opening.
Thus, a small gas-piston engine-based plant for electricity production was launched with a capacity of 30.4 MW. It is planned that the facility will annually generate about 219 million kWh of electricity. The project of "OralMunayProm" LLP was implemented with the support of KAZAKH INVEST. The total design cost of the station was 5.4 billion tenge. According to experts, the implementation of this investment project will ensure uninterrupted supply of electricity to nearby enterprises. In addition, due to the absence of tariffs for the transportation of electricity, the project will save about 1 billion tenge annually. To date, the company has created an additional 50 permanent jobs.
"This project has been implemented in accordance with the best technical and international standards and is aimed at producing environmentally friendly electricity and ensuring reliable and uninterrupted operation of the city-forming enterprise, Kazakh Gas Refinery LLP. We are especially proud of the fact that this project, equipped with advanced German technology, was built and commissioned by local specialists employed by the plant, without the direct involvement of foreign consultants. This shows the high potential of our domestic personnel, which we will develop further ". - noted Nurlan Umerzhanov, Director of OralMunayProm LLP.
In turn, the regional representative of KAZAKH INVEST Aydin Tumyshev noted that substantial financial support was received from the subsidiary fund of Kazyna Capital Management JSC under the concessional financing program. At the same time, with the support of local authorities, an investment platform was provided for the implementation of the project. In honor of the Day of the First President of the Republic of Kazakhstan, a new mini-plant for the processing of raw sugar and the production of granulated sugar and navat on its basis was also put into operation. According to the company, the total investment in production amounted to 278 million tenge. More than 30 permanent jobs have been created. The production capacity is 3600 tons of products per year.
"Thanks to this project, the volume of import to Mangystau region of 9.6 thousand tons of sugar will be reduced to 6 thousand tons. This project will increase overall consumption and provide 30% of the domestic market consumption. Subsequently, we hope that through this project we will be able to occupy an even greater niche in our region in this direction," - said Erbulat Suleimenov, Director of Orda Production Company LLP.
It is worth noting that today, the investment portfolio of Mangystau region for 2020-2025 includes 44 ongoing investment projects totaling 591.5 billion tenge. Of these, 7 projects worth 283 billion tenge include foreign participation. In 2020, the indicator of the volume of investments in fixed assets in Mangystau region amounted to 450 billion tenge. This year, it is planned to implement 14 projects for a total amount of 98.1 billion tenge, with the creation of more than 1000 new jobs. Of these, 4 projects worth 75.1 billion tenge have been implemented, another 10 projects worth 23 billion tenge are planned to be implemented by the end of this year.